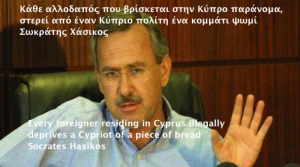 In an announcement yesterday, the minister of Interior, Socratis Hasikos, attempted yet again to persuade the public that we are not facing any sort of problems in relation to the policies of migration and asylum that the Republic of Cyprus has been applying. This time, the minister of Interior absolutely rejected the findings of a new report by Amnesty International, [1] remarking that the international organisation for the protection of human rights makes "inaccurate and generalising reports" that are the result of a "one-sided stance without evidence to support it". [2]
KISA – Action for Equality, Support and Antiracism states that the declarations made by the minister of Interior are completely wrong, as the representatives of Amnesty International came to Cyprus and met with both the public authorities, specifically the Civil Registry and Migration Department  (CRMD) and the Asylum Service (AS), and with organisations in the civic community, including KISA. Furthermore, the representatives of Amnesty International personally visited the detention centre for informal migrants in Mennogeia and the police detention facilities of Nisou, where they had face to face interviews  with the people involved in the cases they investigated. Consequently, KISA declares that if the findings of the new report of Amnesty International are not to the liking of the minister of Interior then it is not due to the international organisation's one-sided view of things, or due to receiving one-sided information from KISA or any other civic organisation, but rather due to the fact that the minister of Interior systematically refuses to see, hear, understand and to recognise even the most obvious things, with regards to the problematic dimensions of the policies of migration and asylum of the Republic of Cyprus.
According to the minister of Interior:
Yet again, KISA urges the minister of Interior to end immediately his polemic against civic organisations, as the humanitarian problem caused by the current policies of migration and asylum are real and extremely severe. As the head of the materially competent and responsible ministry, he shall have to play an essential role in the start of a transparent, democratic, and essential dialogue with the civic community, if he really wishes to contribute to the protection of democratic values, the reinforcement of the judicial system and the protection of human rights. Otherwise, KISA now calls the President of the Republic of Cyprus himself to take political responsibility for the inhumane, antidemocratic and intolerable stance repeatedly demonstrated by the Minister of Interior.
Notes for editors:

---