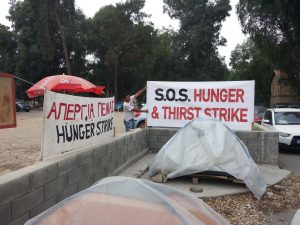 Sadly, last evening we were informed of the misleading statements made by the Permanent Secretary of the Ministry of Interior to the media. The Permanent Secretary claimed that "of the applications submitted for naturalisation, many do not meet the standard criteria of the law, which require a period of legal residency in Cyprus. Their request is that their applications are approved as submitted, not just be examined, but approved." This statement implies that the strikers are asking through their protest that the state act unlawfully and grant them Cypriot citizenship unrightfully. He also claimed that if they were granted Cypriot citizenship, that would be a discriminatory treatment at the expense of other people who have also applied for naturalisation.
In fact, the family of the strikers begun their protest in 2015 requesting to be granted the refugee status, which the Republic of Cyprus has illegally not recognised to them[1].  The former Minister of Interior, Mr. Socratis Hasikos, in the presence of the UNHCR representative, Ms. Olga Komitis, the then Sigma Channel journalist, Mr. Marios Demetriou, and KISA representative, Mr. Doros Polykarpou, committed to granting them Cypriot citizenship instead of refugee status[2]. Subsequently, the competent officer of the Ministry, Ms. Anta Argyropoulou, indicated to each family member when to submit their application, in accordance to the timeframes set by the law. In accordance to the Ministry's suggestions, the family members submitted their applications for citizenship, which were then collectively rejected on unsubstantiated arguments[3].
The family is protesting outside the Ministry of Interior and the Presidential Palace for more than a year now. Members of the family are on hunger strike since 14/5/2018 and on thirst strike since 21/5/2018, not in order to be granted Cypriot citizenship illicitly, as claimed by the Permanent Secretary of the Ministry, but protesting against the breaching of the Minister's commitment, and to demand responses to their applications on the basis of a just and individualised examination.
Under these circumstances, KISA invites the Ministry, even now, to reconsider its decision and fulfil its commitments towards the family of the strikers, and to respond immediately to their applications for naturalisation on the basis of a just and individualised examination. It is highlighted that the health and lives of the strikers are in great danger, as today is the 3rd day of their thirst strike and the 10th of their hunger strike.
Finally, KISA invites everyone to a solidarity to the strikers event, which is organised for tomorrow, the 24th of May 2018, at 2pm outside the Ministry of Interior.
Steering Committee, KISA
[1] ΚΙSΑ. Stateless Kurds from Syria decided to go again on a hunger strike. 27/4/2015.
[2] ΚΙSΑ. The lives of the strikers must be protected. 18/5/2015.
[3] ΚΙSΑ. Break of promises and vengeful attitude by the Minister of Interior. 29/3/2017.
ΚΙSΑ. Stateless refugees on hunger strike – Citizenship is a human right! 9/6/2017.
ΚΙSΑ. The protesting stateless Kurds are suspending their hunger strike. 12/8/2017.