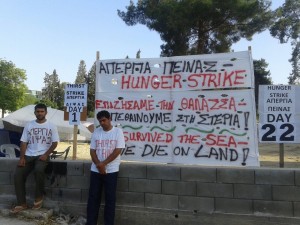 Although their hopes were temporarily revived after the solidarity event held on Thursday, 5/14/2015 and the plea of KISA to the European Commissioner, Mr. Avramopoulos for his intervention with the Cypriot authorities to satisfy their just demands, the hunger strikers, who are stateless refugees of Kurdish origin, decided to escalate their protest. As of today, 18/5/2015 they are on a thirst strike, as well. Despite the fact they clearly show symptoms of exhaustion, the two strikers are determined to continue their protest, even if this leads them to death.
The Ministry of Interior adheres to its intransigent stance and keeps on refusing to grant this small group of refugees the recognized refugee status , despite the legitimacy of their request; also, despite the fact that all EU member states recognize stateless refugees of Kurdish origin as refugees and despite the relevant appeals by the President of the House of Representatives, the President of the Parliamentary Committee on Internal Affairs, the representation of the United Nations High Commission for Refugees (UNHCR) in Cyprus,  and the NGOs working in the field of asylum. It is noted here that the Minister of Interior neither on Friday nor today responded to the NGOs' request for a meeting in order to deliver him a relevant memorandum.
In a meeting he had today with the striking refugees, the Permanent Secretary of the Ministry of interior asked them to apply for the acquisition of Cypriot citizenship. The refugees as well as KISA wonder about the purposefulness of such a movement by the Ministry, since, except for a single person, the striking refugees do not meet the basic requirement of seven years legal residence in Cyprus that is foreseen by the relevant legislation.
KISA, concerned that the protest of the hunger and thirst strikers is now likely to tragically end with loss of human lives, calls on the state, the President of the Republic, the Minister of Interior, all competent state officials, as well as all the competent services, the political parties, and other organized groups, to reflect on their responsibilities towards the strikers, put aside any probable expediencies, and grant justice by recognizing them as refugees, something their counterparts in all other EU member states would do.
[1] As it is known, the protesters, who are stateless refugees of Kurdish origin, are in protest outside the Ministry of Interior for more than seven months and two of them are on hunger strike for 22 days now. Αs of today, 18/5/2015, the latter are also on a thirst strike.