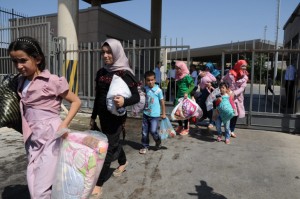 Yesterday evening, the Turkish Cypriot authorities arrested and deported back to the areas controlled by the Republic of Cyprus 40 Palestinian refugees, among them 10 children. The refugees were amongst those at the Kokkinotrimithia camp and had been transferred to the areas not controlled by the government by smuggling rings during the period that the Cypriot authorities had abandoned the camp with no staff and no food.
Police officers of the Nicosia Aliens and Immigration Unit met the refugees at the Ledra Palace check point, recorded their names and abandoned them there in the street, without notifying even the Social Welfare Services for taking care at least of the families with children.
KISA's Executive Director visited the refugees after a call for help from them and asked the police to mediate to the Social Welfare Services for assistance. He also contacted the Director of the Cyprus Red Cross, who said he was not able to help.  Under the circumstances and especially the very difficult situation they found themselves in, the refugees decided to go to the New Life International Church in Strovolos, which is already hosting, since 3 February, another group of Kokkinotrimithia refugees that had been left in the streets after the closure of the camp by the government.
KISA agrees that even under these difficult circumstances the best solution is the submission of application for asylum to the Cypriot authorities. However, KISA calls on the authorities to respect the right of refugees not wishing at present to apply for asylum in Cyprus and to provide them with decent living conditions (accommodation, health care or free access to the labour market).
One again, KISA wants to point out that the institutional difficulties that have surfaced from the rescue and during the reception and protection of the refugees are the main reasons why refugees refuse to apply for asylum in Cyprus. It therefore calls on the government to take the necessary measures for improving the procedures for examining asylum applications and the effective integration of refugees in Cyprus.
Finally, we would like to yet again thank all persons and organisations and especially the New Life International Church for their solidarity and support to the refugees.
KISA Steering Committee