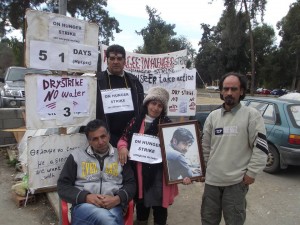 The Minister of Interior, Mr. Socrates Hasikos, met with representatives of cabaret owners just after he assumed office to discuss "problems" they are facing. He gladly also attended and spoke at a conference with proponents of far right, xenophobic and racist discourse. Even worse, very recently and after complaints from "interest groups" who got annoyed by public service announcements against human trafficking, he arbitrarily interrupted the broadcast of radio messages without first talking to the campaign organizers.
But he was unable to attend and address a bi-communal human anti-trafficking event held by Non- Governmental Organizations (NGOs), and also he refused to meet with the US Ambassador to discuss relevant issues. Additionally, the Minister not only has he refused to discuss a memorandum of NGOs on the problems of trafficking victims, but he accuses repeatedly and defames publicly these human rights groups.
This is also an approach by the Ministry of Interior toward a request by KISA – Action for Equality, Support, Anti-Racism to meet and discuss together the serious problems faced by individuals on international protection status in Cyprus and the fair demands from recognized refugees who are on a hunger strike outside the Ministry of Interior for almost two months.
In view of the indifference shown by the Ministry of Interior, the recognized refugees, who are on a hunger strike since last Tuesday morning, January 7, have now stopped taking any liquids, in a desperate attempt to put more pressure on the authorities. They want a review of their applications without delay, referring to their request to obtain the Cypriot citizenship and the long-term residency status.
KISA calls the Ministry of Interior to respect the role of the NGOs and civil society in general, which are calling for social dialogue and cooperation, while at the same time asks the government to take on responsibility without delay and respond positively to the fair demands of recognized refugees, who have been on hunger strike for such a long time. KISA is also explaining that these refugees were forced to flee their homelands to avoid persecution and they are asking for protection in our country. But this time they face an even graver and immediate danger, because their experience in adverse circumstances and institutional discrimination in Cyprus have forced them to take desperate measures for survival. In fact, KISA is emphasizing that this issue is no longer only about protecting human rights but also human lives, and the sole responsibility lies with the authority of the Minister of Interior and the President of the Republic of Cyprus who appointed him. [i]