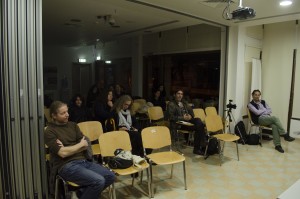 On Thursday 17 December, on the occasion of the International Migrants Day (see the relevant press release by KISA here), KISA and the Office of the Commissioner for Administration and Human Rights organized successfully a movie screening of the award winning short film Anna at the Home For Cooperation. Eimi Lysandroy, actor of the film "Anna" together with KISA's Legal expert Nicoleta Charalambidou and Thekla Demetriadou from the Office of the Commissioner for Administration and Human Rights spoke about the rights of migrant women and their contribution to the Cypriot society during a panel discussion that followed the screening (Video of the speeches will be uploaded in the coming days) .
The director Spyros Charalmbous through the film tells the story of Mary and mr.Michalis. Mary a 30-year-old woman from Philippines, who works in a village in Cyprus, she takes care of mr.Michalis, an 85-year-old man, who suffers from arteriosclerosis. Mr Michalis spends his day watching TV, and specifically, a soap opera, starring Anna. It seems that he has acquired a sort of obsession with the protagonist, and he insists on calling Mary with the name of "Anna, despite his daughter' s, Melpo, remarks. When Mary finds an old box, she makes a significant discovery. The name Anna has a strong meaning for mr.Michalis.
Here you can see an article of the journalist Marios Demetriou about the event (in Greek).
Press releases, statements and other activities by International and local organisations on the International Migrants Day:
United Nations: Secretary-General Calls for Commitment to Human-Rights-Based Responses Guided by International Law
European Union Agency for Fundamental Rights: FRA calls for respect and inclusion
European Association for the Defends of Human Rights: Migrant rights are not for sale!
Peo (in Greek): ΑΝΑΚΟΙΝΩΣΗ ΠΕΟ ΓΙΑ ΜΕΡΑ ΜΕΤΑΝΑΣΤΩΝ 
Picum: 'Selfies' with key messages
Ms. Doris Fiala, General Rapporteur for the Campaign by the Council of Europe Committee on Migration, Refugees and Displaced Persons:"No child should be in a detention center" 
Caritas:  Statement on the Anniversary of the Convention to Protect Migrant Workers
EUROMED RIGHTS – EURO-MEDITERRANEAN HUMAN RIGHTS NETWORK: Open Borders : Stop the War on Migrants and Refugees!