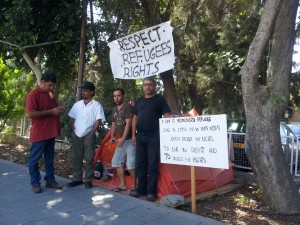 For six whole weeks now, a small group of recognized refugees has camped in front of the Parliament and protest, demanding to gain access to their basic human rights and a decent life. [i] The people with international protection status do not just complain about the personal problems that they are facing, but also for the general situation of recognized refugees in Cyprus.
Until recently and despite the problems they had to face, people with international protection status could at least have access to some jobs. However, right now, recognized refugees not only cannot find any job, even unskilled, because of the worsening economic crisis and rising unemployment, but they are also not receiving the appropriate help and support from the competent authorities. People with international protection status also face discrimination, xenophobia and racism, which are seeded and grown sharply in the past few years. At the same time, they cannot work in other EU countries, because of the residence status granted to them by Cyprus, despite the fact that the majority of these people lives in Cyprus over a decade.
As a result of all these, the only chance to gain equal access to work and to ensure a decent life is to either grant them the Cypriot citizenship or receive the status of long-term residence, which will recognize at least some of their basic human rights. Indeed, KISA – Action for Equality, Support, Antiracism notes that in any other EU country people with international protection status who lived for the same period there would already have been granted the citizenship of the country where they are located. The refusal on the part of the Cypriot government to proceed with the examination of applications for acquisition of citizenship of beneficiaries refugees violates national legislation and European and international refugee law.
Despite the efforts made until now and the repeated requests that have been raised by the protesters, they have not yet received any response from the responsible authorities and particularly by the Ministry of Interior. Therefore, they have decided that if they will not receive any response to the request that they have submitted for the granting of Cypriot citizenship or even the status of long-term residence in the Republic of Cyprus, then they will transfer their protest from the Parliament to the Ministry of Interior, where they intend to stay and begin simultaneously a hunger strike from next Monday, November 18.
KISA supports the just demand of refugees and calls the responsible Ministry of Interior to respond positively, by granting immediately the Cypriot citizenship to recognized refugees who already meet the criteria laid down by the law.
Notes for editors: