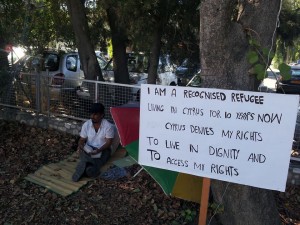 Mr. Socrates Hasikos
Minister of Interior
November 11, 2013
Honourable Minister
Subject: Open letter by two recognized refugees
We, the undersigned, are two recognised refugees residing in Cyprus for the last 10 years. Both of us have applied for naturalisation, but none of us has received any answer. For more than three years now, we are unemployed. We frequently visit the Labour Office, but we could not succeed in finding any job. We do not want to depend on the Social Welfare Services; what we want is a chance to be able to support ourselves being financially independent and relying on our own capacities.
We are well aware of the fact that Cyprus is in severe economic crisis and the difficulties such a crisis entails in finding employment. Because of this, we are trying to find jobs in other EU countries. Somehow, we managed to find job opportunities in other EU countries, but the fact that our documents state we are "temporary residents" in Cyprus makes it impossible for us to get hired. We have been asked to provide documents to prove we are either Cypriot citizens or long term-residents (under the status of the long-term resident) to be permitted to work there. We applied for naturalisation as Cypriot citizens on the 10/10/2012 (Muhammad Altaf) and in June 2011 (Salah Ghanim).
Moreover, people in Cyprus become more and more hostile towards us, as they are made to believe that refugees are to blame for the economic crisis. An example of the situation we currently face in Cyprus is the incident of the 16th of October, when somebody damaged our tent, which was placed in front of the House of Representatives. We were shouting and the police came, but he escaped. We are afraid that if the financial crisis worsens, refugees will experience more violence against them. Because of this, we feel that our lives are in danger.
As you are probably aware of, we are camping in protest in front of the House of the Representatives since the 25th of September 2013. Unfortunately, up to now, our problems persist and we are not satisfied by the response of the authorities so far. We have already addressed a letter to the Director of the Civil Registry and Migration Department asking for the immediate examination of our applications for naturalisation and to grant us Cypriot citizenship, so as we can live and work in another EU country, where we can claim a better future, but we have not received any answer.
In light of the above, with the present letter, we wish to inform you of our decision to camp and begin a hunger strike outside the Ministry of Interior as of next Monday, 18/11/2013, in case we do not receive any answer to our applications for citizenship within this week.
Sincerely
Muhammad Altaf