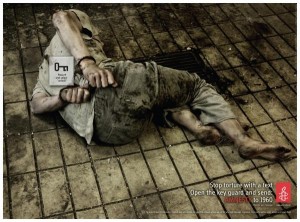 On Thursday, 8th of May 2014, the United Nations Committee Against Torture (CAT) will review the situation in Cyprus in relation to the obligations of the country under the Convention against Torture and Other Cruel Inhuman or Degrading Treatment or Punishment.
Here you can read and download the alternative report prepared and submitted by KISA – Action for Equality, Support, Antiracism:
Moreover, you can find the list of issues of the CAT prior to the reporting of the Republic of Cyprus, the periodic report submitted by the government of the Republic of Cyprus (with the core document, the annex and the list of delegation), as well as the reports of other stakeholders, such as civil society organisations (e.g. Future Worlds Center and Turkish Cypriot Human Rights Foundation) and the national human rights institution, the Commissioner for Administration and Human Rights – Ombudswoman (including both her report and additional information document), on the CAT page.
You can also read the press releases of the Office of the High Commissioner of Human Rights of the United Nations, entitled "Cyprus to be reviewed by UN Committee against Torture" and "Committee against Torture concludes fifty-second session: Adopts Concluding Recommendations on the Reports of Cyprus, Guinea, Holy See, Lithuania, Montenegro, Sierra Leone, Thailand and Uruguay".
[divider scroll_text="SCROLL_TEXT"]
Την Πέμπτη, 8 Μαϊου 2014, η Επιτροπή Κατά των Βασανιστηρίων (Committee Against torture – CAT) των Ηνωμένων Εθνών θα εξετάσει την κατάσταση στην Κύπρο, αναφορικά με τις υποχρεώσεις της χώρας στο πλαίσιο της Σύμβασης κατά των Βασανιστηρίων και Άλλων Μορφών Σκληρής, Απάνθρωπης ή Εξευτελιστικής Μεταχείρισης ή Τιμωρίας.
Εδώ μπορείτε να διαβάσετε και να αποθηκεύσετε την εναλλακτική έκθεση που ετοιμάστηκε και κατατέθηκε από την ΚΙΣΑ – Κίνηση για Ισότητα, Στήριξη, Αντιρατσισμό:
Επιπλέον, μπορείτε να βρείτε τον κατάλογο των θεμάτων που υπέβαλε η Επιτροπή Κατά των Βασανιστηρίων στο πλαίσιο της εξέτασης της Κυπριακής Δημοκρατίας, την περιοδική έκθεση που υπέβαλε η κυβέρνηση της Κυπριακής Δημοκρατίας (συμπεριλαμβανομένου του βασικού εγγράφου, του παραρτήματος και του κατάλογου των αντιπροσώπων της), καθώς επίσης και τις εκθέσεις άλλων εμπλεκόμενων και ενδιαφερόμενων φορέων, όπως οι οργανώσεις της κοινωνίας πολιτών (π.χ. Future Worlds Center και Turkish Cypriot Human Rights Foundation)  και οι εθνική αρχή ανθρωπίνων δικαιωμάτων, συγκεκριμένα η Επίτροπος Διοικήσεως και Ανθρωπίνων Δικαιωμάτων (συμπεριλαμβανομένης τόσο της έκθεσης, όσο και του εγγράφου πρόσθετης πληροφόρησης), στην επίσημη ιστοσελίδα της Επιτροπής Κατά των Βασανιστηρίων.
Μπορείτε επίσης να διαβάσετε και τις σχετικές ανακοινώσεις του Γραφείου Τύπου και Πληροφοριών της Κυπριακής Δημοκρατίας, με τίτλο "Παρουσίαση Έκθεσης της Κύπρου ενώπιον της Επιτροπής Κατά των Βασανιστηρίων του ΟΗΕ (CAT)" και "Συμμετοχή της Επιτρόπου Νομοθεσίας στην 52η Σύνοδο της Επιτροπής Κατά των Βασανιστηρίων (Γενεύη, 8 και 9 Μαίου 2014)".