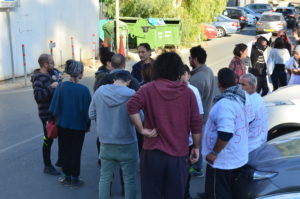 Today (24/11/2016) protesting refugees[i] participated in a demonstration outside the Ministry of Interior with the support of KISA and the civic organisation "Sispirosi Atakton". The event was organised in response to the delays observed in examining the refugees' applications for nationality, but also in view of the deteriorating health of the refugees on a hunger strike. Up to now, three of the strikers have been rushed to hospital.[ii]
During the protest, following initiatives taken by the refugees and the organised groups that support them, a meeting with an advisor of the Minister of Interior was conducted. Through his advisor, the Minister informed us that this morning he gave instructions for the protesting refugees' applications regarding acquisition of Cypriot nationality to be examined immediately.
KISA considers the aforementioned development important and hopeful, despite any reservations that mainly stem from the violation of previous commitments made by the Ministry of Interior in relation to the refugees in the recent past. In spite of this, in light of the Minister's intervention in the matter and the risk of sudden deterioration in the already fragile health of the strikers, we want to believe that within the next few days, the striking protesters' struggle will end well.
[i] For more about the refugees' struggle see: https://goo.gl/Y8VzbG
[ii]  Please see the relevant medical report (in Greek): https://goo.gl/FH1ibM