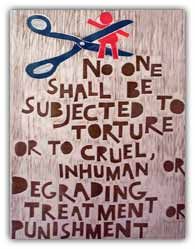 An asylum seeker with serious mental health problems and suicidal and self-harming tendencies is held in detention, under conditions which are torturous, inhumane and threatening to his well-being and life and is moved from one inappropriate place to another, despite the recommendations of his doctors.
The asylum seeker, who arrived in Cyprus from an African country in January 2020, has been transferred, on the basis of decisions of the Cyprus administrative authorities, about ten times from and to detention centres, camps/ reception centres and hospitals. The conditions under which he is held are absolutely inappropriate for his mental health and as a result he has twice ended up at Athalassa Hospital, after attempts to take his own life.
Despite their clear obligations under the Refugee Law and their capacity for appropriate arrangements and utilisation of alternative detention measures, the Immigration and Asylum Authorities have not to this day taken into consideration the serious health condition of the asylum seeker in question, which can result into further problems as well as other factors aggravating his condition.
Not only did they not consider his vulnerable situation, but they took dangerous decisions and acted in ways which guaranteed the deterioration of his condition, putting his life at further risk.
After repeatedly being obstructed by the authorities, the asylum seeker in question finally managed to gain access to Justice and filed an appeal against his detention order. A few days later, the competent authorities, in an attempt to make the judicial procedures devoid of purpose and escape the protection the Law provides the asylum seeker, decided to "annul" the most recent detention order. Their aim was to issue a new detention order upon completion of his treatment at Athalassa Hospital. Their aim was to issue a new one despite the recommendations of health professionals.
The authorities of the Republic of Cyprus once more show a blatant disregard of their legal obligations towards vulnerable asylum seekers, reaffirming once again their offensive stance and disrespect towards those seeking international protection.
KISA, observes the judicial process and has already applied to the Civil Registry and Migration Department, relevantly informing the co-competent authorities. It has also been in contact with an EU-funded organisation willing to provide a place where the asylum seeker can reside in safety, while it intends to take all measures suited in cases as the present, of gross violations of the right to life, safety and protection against torture, inhumane and degrading treatment and punishment.
The Steering Committee