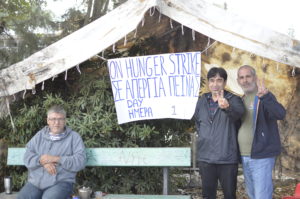 Six people from the group of refugees who have stationed themselves outside the House of Representatives for more than eighty days [i], continue their hunger strike which commenced on Wednesday, November 16th, 2016. These refugees, who have been residing and working in Cyprus for more than ten years, are protesting against the grave obstacles that they encounter in relation to their protection and residence status in Cyprus, and are requesting that the government immediately proceeds with finalizing the examination of their applications for acquiring Cypriot citizenship.
The refugees' decision to intensify their protest via a hunger strike was taken after the repeated postponement of materializing the Ministry of Interior's promises to examine their request for obtaining citizenship. It is hereby noted that the protesting refugees informed the Minister of Interior in writing [ii] about their intention to escalate their protest in case the last timeframe which was provided to them (and which expired on November 15th) was not adhered to once again from the side of the Authorities.
KISA considers the refugees' claim as fully justified and calls upon the Ministry of Interior to act immediately, as indeed it had committed itself, before any human lives are put at risk. We especially express our concerns in relation to four of the hunger strikers, who have severe chronic health problems and as a result, their health situation is severely aggravated with each passing day. At the same time, we call upon the Ministry of Health to proceed with any necessary arrangements so that a doctor can visit and examine the hunger strikers at the site where they are carrying out their protest, as well as to commit to their continuous medical monitoring.
Furthermore, we express our position that the examination of the protesting refugees' applications from the competent authorities, should lead to the granting of Cypriot citizenship, since the refugees meet all relevant statutory conditions: Their continuous residence in the territory of the Republic exceeds the projected timeframe of five years. Indeed, in some cases, their time of residence is three times larger than the one required by the Cyprus legislation. In addition, they have a clear intention to remain in the country and finally, they comply in full with the criterion for good character.
In a letter that the refugees sent to the President of the Republic of Cyprus on November 17th, 2016,[iii]  they request that he himself intervenes in order to effect an ending to their sufferings as well as of their families. Furthermore, in the said letter, the refugees mention among other things that "the acquisition of Cypriot citizenship will provide us and our children, access to basic rights in Cyprus and the rest of the European Union so we can lead a fair and decent life. At the same time, the acquisition of Cypriot citizenship will enable us to participate in all aspects of life and contribute in our turn to the progress and development of Cypriot society. "
[i] Watch a three-minute video where the refugees talk about their struggle: http://tinyurl.com/z2j3fgz
[ii] Read their letter to the Minister of Interior (In Greek): http://tinyurl.com/jb3yd84
[iii]Read their letter to the President of the Republic of Cyprus In Greek):  http://tinyurl.com/j7ndlmz