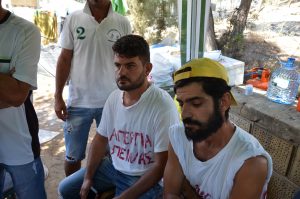 The last few days the Minister of Interior as well as the Director of the office of the President of the Country, repeated with every opportunity they got, that even though they were ready to treat the claims of the Stateless Kurds that have been protesting in front of the Presidential Palace for 4 months with sensitivity, without discrimination and in good faith, they are not able to help. Their excuse was that these individuals do not meet the basic requirement of a five-year legal residence in the country before their application.
Indicatively, we will give some of the details of one of the five family members in order to demonstrate how tragically wrong the position of the minister is. We are sure that it would be different, had he responded positively to the call to meet with NGOs and other unofficial stakeholders that had been repeatedly asking for such a meeting.
Akid is a stateless Kurd like his whole family. As such, he had systematically been exposed to human rights violations in Syria. In January 2006, he came to Cyprus at age 19 in order to ask for asylum. It is important to note that as a stateless Syrian Kurd, he did not have any citizenship or any valid travel documents.
One year later, while he was an asylum seeker, he asked the authorities for permission so that he could marry the young Cypriot woman with whom he was in a relationship. The authorities advised him that he should withdraw his asylum application and then, after his marriage, apply for resident permit as a family member of a Cypriot citizen. After his wedding, he applied for a residence permit and got a negative answer by the same authorities that had advised him to do this. Their reason was that because he was a stateless Kurd he did not have a travel document, which is a requirement according to "the law".
In 2009, Akid had a son with his wife. Even this, was not enough so that he could be able to overcome his troubles as a stateless person in this country. The Cypriot authorities have not since issued a residence permit for him. As such, he ended up living in this country as a legal/illegal husband and father of a Cypriot citizen.
Akid continued fighting against the heartless state so that he could manage to live with dignity in this country. Despite the fact that he could not take up lawful work, he could not travel abroad with his family, have access to the public health care system, or any other rights, he managed with an enormous personal and family price to survive), without any economic or other support from the state.
In January 2013, Akid was even arrested "because he didn't have a residence permit" and was detained for a period of 6 months. They were going to deport him to Syria, without considering that he was married to a Cypriot citizen and that he had to take care of an underage child. Of course, they also did not consider that Syria in 2013 was already a warzone and that no man, let alone a stateless person, should have been deported to this country.
The capture and detention of Akid resulted, among other things, to the dissolution of his marriage. Until today, Akid understands why his ex-wife decided that she could not go on being married to him under these circumstances and proceeded to end their marriage in 2016.
The Minister of Interior, after taking up office has been avoiding until today to meet and discuss the matter with the President of the Parliamentary Committee of Interior Affairs, the Director of the UNHCR, the representatives of the NGOs and the strikers themselves. He suggested that the information that was given to him by the Ministry's officers, the protesters do not meet the prerequisites as laid down by the law, mentioning especially the five-year period of legal residence required for applying for citizenship.
If we were you, Minister and Director of the President's office, we would not only reevaluate the case, we would not only revise the position to reject the citizenship claim. We would proceed to a public apology on behalf of the state for all the suffering that some people have caused on the lives of the stateless Kurds, with their actions and inactions.
Steering Committee