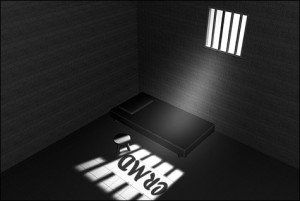 KISA Delegation visited yesterday (15/01/16) the Detention Center of Undocumented Migrants of Menoyia and spoke with a number of detainees. Unfortunately, the findings of the visit demonstrate that the Acting Director of the Civil Registry and Migration Department (CRMD) continues to follow an incomprehensible policy of issuing detention and deportation orders against migrants and refugees, including family members of EU citizens, asylum seekers and people with international protection status.
A typical example of the "theater of the absurd", is the case of G.S., a Palestinian from Gaza. G.S. arrived in Cyprus and requested international protection in 2000. After eleven years of delay in processing his application for asylum, the competent authorities finally decided in 2011 to invite him for an interview and to grant him a subsidiary protection status.
In 2014, G.S. was sentenced for committing a criminal offense and he was serving his sentence in the central prison. Meanwhile, the Head of the Asylum Service, pleading G.S.'s conviction, proceeded with withdrawing his protection status. His appeal to the Refugee Reviewing Authority against the revocation of his status is pending until today. Recently, after request, he was awarded a pardon by the Attorney General on condition that he would accept the immediate repatriation of himself, of his European wife and children ignoring the fact that this was neither permissible nor achievable because the travel documents of G.S. were detained by the authorities, under the instructions of the court, within the frame of the pending criminal case.
G.S. was released after he was granted the special favor but instead of being repatriated, he was transferred with a detention order, issued by the Acting Director of CRMD, to the Detention Center in Menoyia with no prospect of his immediate repatriation. It is worth mentioning that his wife and children are trapped in Gaza where they were waiting to meet with G.S. as previously agreed with the Cypriot authorities.
Another example of a person, who was arrested and detained in Menoyia with no prospect of deporting him from Cyprus, is the case of another Palestinian from Gaza A.W. After ten years without examining his application for asylum, A.W. asked the authorities to help him move to another country. The authorities agreed on the condition that he would withdraw his application for asylum. About a year later, and while his case had been closed, A.W. was arrested for committing a criminal offense and sentenced to four months in prison.
After his release, despite the fact that there is no prospect of deporting him to Gaza and despite the serious health problems that he is facing, he was arrested again and since then he is detained in Menoyia. KISA, acting on behalf of A.W., sent a letter to the Acting Director of CRMD Mr. Makis Polydorou, asking for the immediate release of A.W. and a second letter to the Head of the Asylum Service, asking for the reopening of his case file for asylum.
On 05/01/16, we received a letter from Mr. Polydorou, as Head of the Asylum Service, responding to our request, with which he notified that "Information for any foreigner is provided only to registered lawyers", basically ruling out NGOs from being involved in detainees' cases and forcing the detained persons to be addressed in law firms out of necessity in order to claim their rights.
Furthermore a group of eighteen prisoners, mainly from African countries, are detained in Menoyia, who were deceived in the non government-controlled areas by traffickers who promised to take them to Turkey on boat, from where they intended to go to an EU country in order to apply for asylum. After having received a significant amount of money from each individual, the traffickers took them to a residence in the government-controlled areas where they kept them locked up for a week. Then they took them to a beach close to Larnaca, where supposedly a boat would take them to Turkey. After several hours waiting on the beach and convinced that they were deceived, they decided to go to the police station to report the case and seek asylum in Cyprus. The authorities, instead of taking the necessary procedures of asylum seekers treatment, studying in parallel the possibility of recognizing them as victims of trafficking, they issued detention and deportation orders against them despite the fact that at this moment they are potential witnesses and victims of organized crime and asylum seekers who cannot be deported because the examination of the trafficking case is pending as well as their application for asylum.
It is worth mentioning that, based on the European Directive on preventing and combating trafficking in human beings, the reporting people would be recognized as trafficking victims in most EU countries that have opted for applying voluntarily the Directive that encourages Member States to study the possibility of recognizing victims of human trafficking irrespective of whether they initially consented to the trafficking process.
Finally, another case that illustrates the paradox of the authorities' policy is that of A.P., national of a non-EU country and husband of a European citizen. A.P. is detained because his marriage was considered as "marriage of convenience ", but authorities continue to carry him three times a week at the hospital to visit his wife, which at this stage is hospitalized, while trying to settle his transportation together with his wife to her country of origin on the basis that his spouse is an EU citizen.
In light of the above and realizing that there is no more time left for keeping on the theater of the absurd, we ask for:
The immediate release of all asylum seekers illegally detained in the detention center for undocumented migrants in Menoyia and of all detainees for whom there is no prospect of immediate implementation of the decision on deportation, including all the above referred persons.
Meeting with the Minister of Interior in order to discuss the issue of detention and deportation orders policy from CRMD. It is noted that for six months, KISA calls for a meeting of NGOs with the Minister to discuss the matter under review but with no response from the ministry.
The setting up of a committee composed by representatives of relevant departments, independent authorities and civil society organizations in order to act as an advisory body of the Acting Director of CRMD in the foreseen by law assessment (every two months) of the continuation of the undocumented migrants detention.