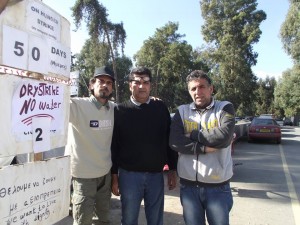 Two recognized refugees, on hunger strike in front of the entrance of the Ministry of Interior, claiming their right to permanent residency status, are now escalating their protest as the authorities continue their intransigence by refusing to examine their just pleas.
The first refugee from Kashmir is on hunger strike for 50 days, while the second refugee from Iran is on hunger strike for 30 days. Since yesterday morning, both hunger strikers, in Cyprus for nearly 11 years, have stopped taking even liquids in a desperate attempt to convince the competent authorities to proceed with the immediate examination of their applications for Cypriot citizenship and long-term residence status, respectively.
Along with the two hunger strikers, in front of the Ministry of Interior are also two more persons with international protection status, one from Palestine and one from Iran, who are also in Cyprus for more than a decade. It is reminded that before starting their hunger strike in front of the Ministry of Interior, the recognized refugees camped in front of the House of Representatives for 55 days, without, however, any response, either from the House of Representatives or the competent authorities, namely the Ministry of Interior. [1]
KISA – Action for Equality, Support, Antiracism calls on the government to take on its responsibilities forthwith and to respond positively to the just demands of the recognized refugees on hunger strike for such a long period. KISA notes that these people were forced to flee their home countries to seek protection in our country because of the persecution there. This time, however, they are up against a more immediate and serious risk of survival, because the adverse conditions and institutional discrimination that they are facing in Cyprus led them to despair and this dramatic form of protest as the only way out. In this context, KISA stresses that now the issue is not a problem of protection of human rights but one of protection of human lives. [2]
Finally, KISA appeals to the Cypriot society to practically show its solidarity and actively support the recognized refugees on hunger strike by signing the online petition to the Minister of Interior and asking him to ensure that people with international protection status will have immediate and full access to their fundamental and inalienable human rights! [3]
Notes for editors: