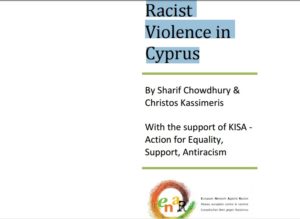 For the full report, click here
Due to the historical background of the ethnic conflict in Cyprus and the ongoing segregation of the two local communities, it is not surprising that there has been very little said or done to tackle discrimination, racism and racist violence in Cyprus. Research on race and migrant related discriminatory practices and racism is still very rare as monitoring systems are either inadequate or non-existent. The prominent position of the 'Cyprus problem' in every political debate has resulted in a weak tradition of anti-discrimination laws and policies. Racism has never really been a priority issue for any government, nor for the civil society, with the exception of a few independent NGOs such as KISA, which usually lack funding and support. Under such circumstances, NGOs in Cyprus are restrained when challenging unjust policies and discriminatory practices.
In addition, crimes related to racist violence are not properly documented by the Cyprus police, either because of institutional racism that exists or because of the authorities' tendency to ignore issues related to migrants and racism altogether. The intention of this report is to produce an overview and a brief analysis of data available from sources such as national daily newspapers and NGO reports. The latter constitute a vital source of information on cases of racist violence. Furthermore, they include cases that victims never intended to report to the police, which is often the case when the victims concerned have insecure residence status or, perhaps, little confidence in the police.
Evidently, there is no comprehensive monitoring system regarding racial discrimination and violence, just as there has been relatively little interest in racial victimisation (or even other kinds of criminal victimisation) of migrants or other ethnic communities in Cyprus. Since no accurate official data on racist violence in Cyprus has ever been published, it is impossible to cite statistics on the number of racist crimes in the country. Nonetheless, according to NGO reports and newspaper articles, there have been a large number of racist incidents since early 2000.
Furthermore, due to the fact that Cyprus only became a host country of migrants since the 1990's and of asylum seekers since 2000, the tensions and the ongoing bi-communal conflicts between the Greek Cypriot and the Turkish Cypriot communities perpetuate xenophobic perceptions towards groups of different religious or ethnic origins, other than the dominant groups. This pattern of intolerance is becoming more and more evident and as a result it has evolved into racist crime and violence against the increasing number of migrants from various countries. At the same time, Cypriot media irresponsibly and continually exploit this trend, fuelling the xenophobic character of the society.
In recent years there is a noticeable rise in anti racial behaviour and race related mob attacks. Very recently in July 2010, in the centre of the capital Nicosia, during a demonstration by the ultra-nationalist youth group ELAM (Greek popular front), some Asian students were chased and a Nigerian passer-by was badly beaten and forced into the path of a moving car just because of his colour and race (For the full report, click here)