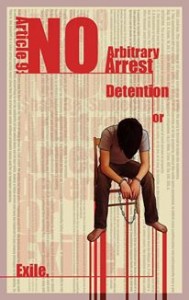 According to reliable sources from human rights organisations, a Syrian Kurd who was deported to Syria under orders of the Cypriot government more than a year ago, was immediately arrested on arrival and has since been kept under detention.  In addition, at least ten other Kurds who were also deported by the Cypriot state after their demonstrations last June in Byron Avenue in Nicosia, were then arrested either on arrival to Syria or shortly afterwards.
Amnesty International and the organisation DAD (Organisation of Kurds for the defence of human rights and freedom of rights in Syria) condemn anew the practice of unlawful arrest and detainment of activists by the Syrian secret services.  This condemnation results from a further arrest on the 4th of December of another Kurd who was deported by the Cypriot government to Syria.
Yesterday the Cypriot government stepped up measures by deporting further Syrian Kurds, mainly those who were arrested during the demonstrations last June.  From amongst the people who were arrested were those who are stateless, asylum seekers of whose application has not yet been assessed and people whose families, which include young children, continue to live in Cyprus.
KISA considers it tragic that large numbers of Syrian Kurds are deported from the state of Cyprus to a country where human rights are continuously violated including the 'crime' of having left-wing tendencies.  Independent sources have proven the occurrence of human rights violations to Kurds, political activists, the stateless and those deported within Syria.
Furthermore, the Ministry of Foreign Affairs of the conservative and right-wing government of Germany has done a U-turn on the policy of obligatory repatriation to Syria after it was criticised by the Social Democratic Party, the Green Party but particularly the Left Party.  The latter party accused Germany's government of "Sending the Kurds to the slaughter".
Particularly upsetting is the fact that the deportation of Syrian Kurds after the demonstrations of last June on Byron Avenue, has further aroused the interest of the Syrian government against them.  This issue has been noted by the Minister of the Interior.
KISA condemns the Cypriot government's policy towards deporting Syrian Kurds and calls the Ministry of the Interior to reconsider this policy and to protect those Syrian Kurds looking for asylum in Cyprus.
Finally, it requests that the government reconsiders its intention in the signing of a readmission agreement with the Syrian regime.  KISA understands that such an agreement would be a violation of the international obligations made by the government of Cyprus.  Since the policy of Syria has not only been proven to continuously violate human rights but also neither has it endorsed a number of international conventions of human rights including the Convention of the United Nations for Refugees.