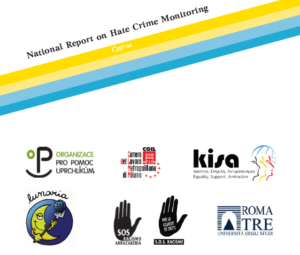 You can download the report here
This report is prepared and submitted in the context of TOGETHER! Empowering civil society and law enforcement agencies to make hate crime visible, which is a transnational programme co-funded by the Justice Department of the European Commission. The project is of two years duration, from the 1st of December 2014 until the 31st of November 2016, and is implemented by NGOs from the Republic of Cyprus (RoC), Italy, the Czech Republic and Spain. KISA – Action for Equality, Support, Antiracism, in cooperation with the Office of the Cypriot Ombudsperson as an affiliated partner, implements the project in the RoC The project is coordinated by SOS Racism Gipuzkoa, while other partners are: SOS Racisme Catalunya (Spain), Organization for Aid to Refugees – OPU (Czech Republic), and Lunaria, CGIL – Department of Immigration and Social Policy, University of Roma Tre (Italy).
The project aims to improve the capacities of Law Enforcement Agencies -LEAs and Civil Society Organisations – CSOs (NGOs as well as community-based organisations) in making hate crime visible among European society, which is a vital step to tackle hate crime and address related fundamental rights violations.