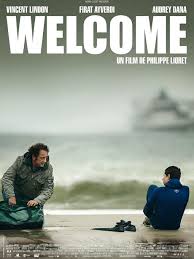 Invitation to the movie screening of WELCOME at KISA Cinema
Thursday, 13 March 2014 at 20:30
@ KISA, 48 Arsinoes Street, Old City Nicosia
French /English (with English subtitles)
WELCOME is an award-winning movie about undocumented migrants living in Calais, France, and people trying to help the migrants.
The story centers around Bilal, a 17-year-old Kurdish boy from Iraq, who wants to get to England to see his love. After three months travelling across Europe Bilal finally reaches Calais in the North of France. But how do you cover 32 kilometres of the English Channel when you can't swim?
See the trailer: http://bit.ly/1gQDuQJ
The screening will be framed by a short testimony by an unaccompanied minor in Cyprus and a discussion in the end.
KISA Cinema has screenings every 2nd and 4th Thursday a month.