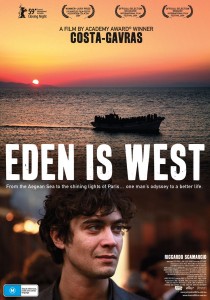 Invitation to the movie screening of EDEN IS WEST at KISA Cinema
Thursday, 27 March 2014 at 20:30
KISA, 48 Arsinoes Street, Old City Nicosia
Greek / English  (with English subtitles)
Eden Is West is a 2009 comedy-drama by Greek-French director Costas Gavras about the odyssey of an undocumented migrant.
Elias is a young man who paid a smuggler to be hidden inside a ship making its way to France. There, he becomes a stranger in a very strange land as he tries to avoid immigration police and survive in a place where he can't speak the language. After a brief affair with a German tourist, he works as an assistant for a traveling magician who invites him to visit him in Paris. Elias decides to make his way to the fabled city, which is the beginning of a long journey through class-conscious Europe.
Trailer: https://www.youtube.com/watch?v=adlunG3nxds
Admission free – coffee and drinks for low prices.
KISA Cinema has screenings every 2nd and 4th Thursday a month.