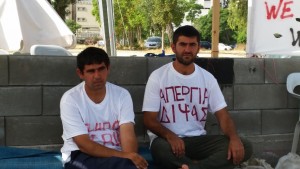 During a meeting on Wednesday (24/06/2015) between the stateless Kurdish hunger strikers from Syria and the Acting Director of the Civil Registry and Migration Department (CRMD), the hunger strikers were astonished to learn that their applications for citizenship have not been forwarded by the CRMD to the Interior Minister for a decision despite his explicit instructions that the applications be considered immediately.
It is recalled that on 23.05.2015, in an attempt to overcome the impasse that arose in relation to the hunger strikers' rightful demand for recognized refugee status, both the Interior Minister and the Director General of the Ministry urged them to apply for citizenship, promising that their applications would be addressed immediately with every endeavour for a positive outcome. Following this recommendation by the Minister, the hunger strikers were persuaded to stop refusing liquids, and at the same time they lodged their applications for Cypriot citizenship.
At a time when the health of the refugees had already reached crisis point, with a real danger that their situation could deteriorate seriously at any moment, the CRDM gave various pretexts while informing them that it has not yet started considering their applications for Cypriot citizenship.
In the light of the above regrettable developments, KISA calls on the Interior Minister to intervene to ensure that the CRDM will proceed immediately with consideration of their applications and will submit them to the Minister for a decision.
We believe that the refugee hunger strikers meet all the legal criteria for acquiring Cypriot citizenship, given that their uninterrupted stay in the territory of the Republic exceeds the required period, they intend to stay in the country and are of good character.
As to the argument put forward by the CRDM regarding the non-payment of fees, we believe that the hunger strikers should be aided in this matter, taking into account their poor economic situation but also Cyprus's obligation under the United Nations Convention on Refugees, which recommends to Member States that they facilitate refugees' access to citizenship and the related administrative fees.
Also, we consider completely unacceptable any attempt on the part of CRDM to rely on gaps arising in their applications for residence permits due to the rejection of their applications for asylum and the closing of their files by the Asylum Service. We believe that it is not justified to reject applications by stateless Kurds from Syria, especially at a time when indiscriminate violence and conflict prevailed in that country. Such gaps resulted mainly because of mismanagement of their cases by the Asylum Service, therefore the refugees should not be victimized once again for omissions and bad decisions by the administration.