In recent days, there has been an uproar over the clashes between foreign students in Limassol. KISA has informed the competent authorities and has made public its view on several occasions that the continued growth of low-quality private educational institutions has multiple negative effects on both the students themselves and society, at large. Unfortunately, the authorities and in this case could not care less…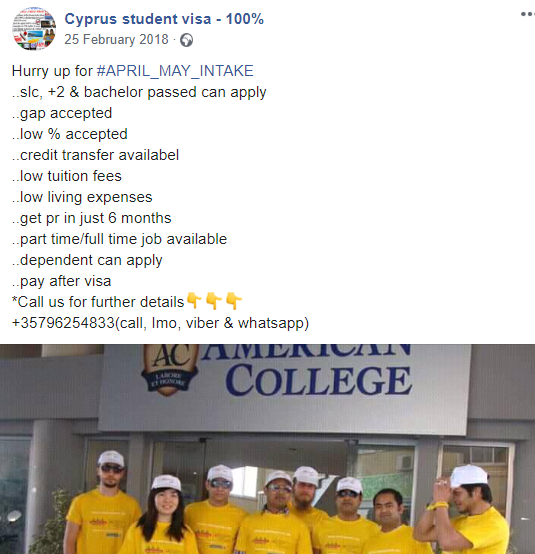 These institutions, which are mainly aimed at exploiting rather than educating students, have, among other things, led to attracting people who are not primarily concerned with education but to exploit individual opportunities offered by a less oppressive society than that in their country of origine. Furthermore, many students come to Cyprus with very different representations as to where they come and in what conditions as well as with regard to their legal status and the rights that this entails.
A small number of students, mainly from India, for purely selfish reasons and for creating followers, try to make up for their boredom and frustration through the consumption of alcoholic beverages and the organization of ritual clashes and fan scuffles.
Despite the fact that we take such violent incidents very seriously, such as those that took place over the weekend in Limassol, we condemn in the most unequivocal way their exploitation by far-right and populist circles, who are trying to exploit them to stigmatise all immigrants and refugees in the country, for their own political expediencies. Unfortunately, this climate has been encouraged time and time again by unacceptable statements by the Minister of the Interior himself and the tolerance shown to date by the law enforcement authorities for hate speech issues.
Both KISA and the Indian community in Cyprus with which KISA cooperates invite the competent authorities to work with them to address these problems as quickly as possible in a constructive manner and not by demonization, in a framework that ensures the integration of immigrants into society.
At the same time, we call on the government and in particular, the Ministries of Interior and Education, to take steps to improve the quality of private higher education institutions as well as the smooth integration of foreign students into society, such as their right to part-time work in their fields of study.
Steering Committee