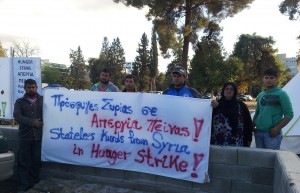 Four of the ten stateless Kurds from Syria (Ajanib), which are in front of the Ministry of Interior in tents since one and a half month, in protest for the fact that they are waiting for over 7 years for their applications for international protection to be processed, are on a hunger strike for 9 days now.
These four people started the hunger strike to underline their willingness and determination to obtain their demands until justice is done, for the immediate examination of their applications seeking of protection and granting of recognized refugee status.
Unfortunately the Ministry of Interior up to date has neither responded to the just and legal demands of the protesters but also it manifested its failure to the commitment made by the Minister himself in front of the Parliaments' Interior Committee, to give priority to the examination of the applications of the Syrian refugees and to show an accurate understanding of their demand for recognized refugee status rather than subsidiary protection.
Two of the hunger strikers have already manifested complications in their health condition and were transferred to the Nicosia General Hospital for treatment.
We call on the Ministry to intervene so that the Administration can immediately proceed with the examination of the applications and  the granting of recognized refugee status to the Kurd protesters from Syria.
The immediate intervention of the Ministry of Interior according to us, is absolutely necessary due to the fact that the applications of these people have been waiting to be processed for an unacceptable amount of time (more than 7 years), but also for humanitarian reasons as to avoid serious complications with the hunger strikers' health conditions in case the strike is prolonged.
KISA Steering Commitee