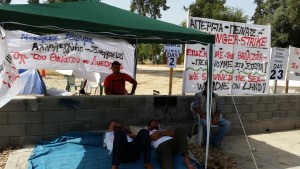 KISA-Action for Equality, Support, Anti-Racism is pleased to announce that the struggle of the stateless Kurd's from Syria, who had been protesting in front of the Interior Ministry since October 2014 , is progressing to a positive outcome . The refugees' protest lasted 10 months (see the full campaign here) , and during that time the protestors started a hunger strike that lasted 58 whole days and refused to take on any liquids for 5 days.
Yesterday, the Interior Ministry informed the strikers that their applications for citizenship had been considered and that it has proceeded to granting Cypriot Citizenship to those who fulfil the required period of uninterrupted stay in the territory of the Republic of Cyprus. For the remainder, the Ministry has decided to proceed immediately with the issuing of travel documents, allowing them to travel until such time as they also fulfil the residence period in the Republic required for the granting of Cypriot Citizenship.
KISA appreciates the positive and especially significant intervention by Interior Minister Mr Socrates Hasikos and Deputy Director General of the Interior Ministry Mr Constantinos Nicolaides, especially at a time when the Civil Registry and Migration Department appeared to have an obstructive attitude towards considering the strikers' applications for citizenship. It is recalled that the strikers' application for naturalisation had been submitted at the suggestion of the Interior Minister, in an attempt to overcome the deadlock that was created in relation to the refusal by the asylum authorities (Asylum Service and Refugees Review Authority) to satisfy the just demand for recognised refugee status.
At the same time, KISA believes that the root of the problem lies in the inflexible approach and the wrong policy of the asylum authorities in the granting of subsidiary protection to those who are entitled to recognized refugee status. Regrettably, the current policy and practice of the specific authorities continues to apply, which may lead to new protests.
KISA takes this opportunity to thank the Office of the UN High Commissioner for Refugees (UNHCR) for its contribution to the strikers' struggle and at the same time hopes that the UNHCR will adopt a more decisive and combative approach and attitude. We also thank all the organised groups and individuals which supported the dynamic actions of the refugees over the last 10 months, thus demonstrating in practice their solidarity and support.
Lastly, KISA stresses that the vindication of the demands of the Kurdish strikers from Syria, like the vindication of the struggle by the recognised refugees in June 2014 for Cypriot Citizenship, shows that people with international protection can collectively claim their rights and improve the conditions of their integration into society through methodical and coordinated actions and mobilisations. We hope that the newly-created Cyprus Refugee Organization (CRO) will play a pivotal role in this.