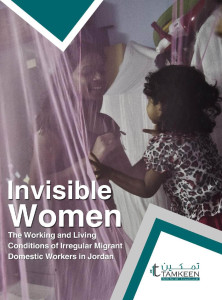 Executive Summary
The conditions of poverty, unemployment, and the absence of decent standard of living in the countries of the workers resulted in the travelling of hundreds of thousands of them to work as domestic workers in Jordan, where a lot of them face great, comprehensive, and systematic violations and this is due to several reasons, and the most important one is the recruitment regulation which entrenches violations against domestic workers. As well as the workplaces where workers suffer from semi-fully isolation with the presence of tens of violations they are exposed to, in light of laws criminalizing "running away" from the workplace, where Jordanian legislations include provisions may lead to the strengthening of ill-treatment.
Despite the important legislative reforms carried out in the recent years in Jordan to workers' recruitment regulation, but the migrant domestic workers' access to basic human rights and protection are still weak, that is in case they did exist in the first place.
Within this context; "Invisible Women: The Working and Living Conditions of Irregular Migrant Domestic Workers in Jordan" study conducted by Tamkeen Fields for Aid, shed the light on the working and living conditions of migrant domestic workers in general, and more specifically those who hold irregular status in Jordan, and knowing the demographics and characteristics of women migrant workers such as: age, education level, and marital status. In addition, to accessing the awareness of migrant domestic workers in terms of access to mediation services in cases of forced labour and human trafficking, including issues related to passport confiscation. Migrant domestic workers – mainly women – from Sri Lanka, Bangladesh, Indonesia, and the Philippines, are considered as one of the largest groups of workers excluded from labor laws and social protection in Jordan. According to official data, there are approximately 50,000 domestic workers in Jordan, in addition to around 30,000 irregular workers.
Domestic work entails a variety of roles, from housekeeping and cooking to caring for children and the elderly, the work often being physically and emotionally draining to workers. Despite their important presence in the household, this group works unprecedented hours below minimum wage, in addition to the denial of annual, weekly and sick leaves, though they are limited if available. Many workers are deprived of basic needs such as food and leisurely time, contacting their families and many of whom are exposed to physical, verbal, and sexual abuse. Many employers and recruitment agencies take advantage of migrant domestic workers by confiscating passports and other legal documents, including work and residency permits, which dictate their legal status and mobility in the country.
The migrant workers' lack of information about their rights and contractual agreements that outline work conditions and salaries, as well as the absence of appropriate legal redress mechanisms, further perpetuate helpless situations that may leave them trapped in the country against their will. Where domestic workers are left with very few avenues through which they can demand their rights and secure compensation, and we need to point out here that there a lot of cases which have been exposed to series of violations have lost their rights due to prolonged judicial proceedings, and a rise in unjust and arbitrary deportations and arrests.
In addition, there is a large population of irregular domestic workers that are unregistered in the formal labor economy which amplifies their risk of exploitation and blocks access to justice mechanisms, particularly in regard to labor law violations. Given the recent climate of government pressure to crackdown on the growing phenomenon of irregular migration in Jordan, and the fear of deportation has left a group that already works in private households further isolated from the public eye. Many women workers are afraid they will encounter police officials demanding legal documents, such as residency and work permits, and choose to stay in the workplace or in their homes to prevent contact with the security and legal bodies.
This report focuses on (irregular domestic workers), documenting their realities in Jordan through extensive fieldwork. The research study pays specific attention to the issues of irregular migrants, through their working and living conditions, and access to basic labor rights and services, such as healthcare, awareness about their legal rights, and matters relating to family relationships both in their home countries and in Jordan.
Overall, the report raises the challenges domestic workers face in terms of accessing their rights and correcting their statuses. While focusing on the experiences of irregular domestic workers, it provides a comprehensive overview of the conditions of all migrant domestic workers in Jordan.