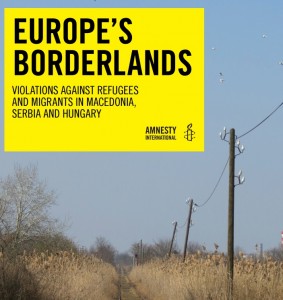 With few safe and legal routes into the EU, many of the thousands of refugees and migrants who have travelled the western Balkans route to Hungary find themselves trapped outside the borders of the EU in Serbia and Macedonia, without any legal protection or status. Refugees face considerable obstacles in accessing asylum in any country along their journey. Refugees and migrants alike are at constant risk of exploitation, arbitrary detention and ill-treatment along their journey.
In 2014, more than 42,000 people entered Hungary irregularly from Serbia. 1 More than half were refugees and migrants who had crossed the border into Hungary from Serbia, having travelled along the western Balkans Route from Greece, the vast majority through the Former Yugoslav Republic of Macedonia (Macedonia). Their numbers are increasing: by 22 June 2015, 60,620 refugees and migrants had been apprehended entering Hungary irregularly, 60,089 of them crossing into Hungary from Serbia.
Based on interviews with over 100 refugees in Greece, Macedonia, Serbia and Hungary, this report follows their journey, documenting the abuses and obstacles they face along the way. The journey taken by refugees and migrants is often risky, and sometimes dangerous and irregular.2 It is made out of desperation by people who are fleeing war or other violence, persecution, discrimination or poverty, in the hope of finding asylum, safety and security. Walking through all weathers, over mountains and wading through rivers, sometimes without food and water for days on end, the challenges are immense. Exhaustion, pain and hunger take both a physical and a psychological toll.
The Balkans route is certainly not safe. At Macedonia's border with Greece, and at Serbia's border with Macedonia, refugees are routinely subjected to unlawful push-backs and illtreatment by Border Police. They may be arbitrarily detained by the authorities. Their irregular status also makes them vulnerable to financial exploitation by law enforcement officers, who misuse their authority to demand bribes.
In addition to human rights violations at the hands of the authorities, refugees and migrants are vulnerable to exploitation by smugglers who, in the absence of safe and regular routes, make their irregular journeys possible. Smugglers can fail to live up to their promises, raise the agreed fee or abandon people in remote areas. Refugees and migrants are also vulnerable to attack and robbery by armed groups, but because of the harsh treatment that some receive  at the hands of the authorities, they fear reporting such attacks to the police.
Refugees who attempt to seek asylum in Serbia or Macedonia face severe obstacles. Despite the increase in the numbers of registered asylum-seekers, the number of refugees granted international protection in both countries remains pitifully small. In 2014, 10 asylum seekers were granted refugee status in Macedonia; and in Serbia, only one applicant was provided with asylum, while five were granted subsidiary protection. The fact that most refugees view Serbia and Macedonia as transit countries on their journey to the EU, does not absolve these countries of their obligations to develop effective asylum systems, which would provide refugees with access to international protection.
In both Macedonia and Serbia, inadequacies in the implementation of their asylum laws make it nearly impossible for asylum-seekers to access protection. Discouraged by the authorities' slow progress in registering their claims and conducting refugee status determination interviews within the time set out by law, most continue their journey and move on towards Hungary, where even prima facie refugees – including almost half of Syrian applicants – are not granted asylum. Serbia and Macedonia are required to bring their asylum systems and laws in line with international and EU law and standards. Yet, without the political will, capacity or resources to ensure implementation, those seeking protection will continue to be denied access to an adequate asylum procedure.
In Macedonia, Amnesty International found that refugees and migrants are frequently arbitrarily detained in inhuman and degrading conditions at the Reception Centre for Foreigners (Gazi Baba) in the capital Skopje, some of whom are unlawfully detained as witnesses in proceedings against smugglers. In Serbia, despite the presumption against the detention of asylum seekers, refugees are regularly detained for their irregular entry and stay. In Hungary refugees and migrants entering the country irregularly may be subject to illtreatment when initially detained; subsequently, up to 40% of male asylum-seekers may be detained during the asylum process.
As Serbia, Macedonia and Greece do not have functioning asylum systems, and the treatment of irregular migrants and asylum seekers, in Macedonia and Greece in particular, exposes them to the risk of multiple human rights violations, returns to these countries – whether through readmission agreements or unlawful pushbacks – currently breaches the prohibition of non-refoulement and should be stopped.
Ultimately, it is impossible to separate the migratory pressures on Serbia and Macedonia, and the rights violations occurring there, from the broader stresses prompted by the flow of migrants and refugees to and through the EU. The particularity of the Balkan route is that it involves refugees and migrants entering and exiting the EU only in order to re-enter it two countries further on in Hungary. As the Macedonian border with Greece is much more porous than the Hungarian border with Serbia (an imbalance that will only be aggravated by the Hungarian proposal to build a fence along that border), refugees and migrants are increasingly trapped in what is, for them, a Balkan no-man's land. Indeed, Serbia and Macedonia are currently serving as an overflow pipe for refugees and migrants that neither Greece nor Hungary, nor, indeed, the EU as a whole, are willing to receive.
While both Serbia and Macedonia can and should do more to respect the rights of refugees and migrants, the fact remains that they are struggling to deal with the consequences of EU migration policies, over which they have no influence. Ultimately, the stresses on Serbia and Macedonia, as with the stresses on Italy, Greece and now Hungary, can only be resolved by a much broader rethink of EU migration policies.
In its recommendations to the authorities, Amnesty International urges both Serbia and Macedonia to take immediate measures to respect the rights of refugees to a meaningful asylum process, without delay, and in accordance with the timelines set out by law.
Serbia and Macedonia should refrain from unlawful push-backs, and instead ensure that refugees entering those countries irregularly are informed of their right to apply for asylum. States must respect the principle of non-refoulement and refrain from returning asylum seekers to Serbia, Macedonia or Greece.
Allegations of ill-treatment by law enforcement officers, including during push-backs, should be promptly investigated and appropriately sanctioned. Each country should ensure that refugees and migrants are not arbitrarily detained, including in conditions which may be inhuman and degrading.
The criminalization of refugees and migrants, including through arbitrary detention in Macedonia, routine detention in Hungary, and the administrative detention of refugees for illegal entry and stay in Serbia, should cease. Detention should be considered as a last resort, where it can be justified as necessary and proportionate, in compliance with international law. Children should not be detained under any circumstances
. As this report was going to print, Hungary had announced a series of measures intending to restrict access to asylum in the country both physically – through the construction of a fence – and through the introduction of legislation that would facilitate the denial of asylum to asylum seekers who had transited through a "safe third country" – i.e. Serbia. Given the obstacles to accessing asylum in Serbia and the risk of chain refoulement to Macedonia and on to Greece, Hungary should ensure that it continues to offer access to asylum to refugees entering Hungary irregularly from Serbia.
Finally, Amnesty International urges European governments to offer refugees safe and regular routes to access protection, and ensure that refugees have effective access to asylum at the EU's external land borders. In response to an ever-growing refugee crisis, Amnesty International proposes a series of measures towards the creation of an equitable, rights compliant, migration management system in the EU.