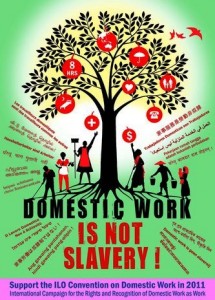 On the occasion of Women's Day: 
Immediate release of Santosh!
End of discrimination and violence against migrant domestic workers!
Santosh came to Cyprus about two years ago with a four-year residence and employment visa as a "domestic worker". In reality, however, in addition to domestic work, she was also taking care of a bed-ridden old couple. The employers' daughter withheld all of her personal traveling and other documents, while the migrant woman worked on a 24-hour basis, 7 days a week, without a day off, for a monthly salary of 360 Euro.
When the migrant woman asked her employers to employ another person as well because she could do no longer bear the above conditions, they responded by buying an air ticket and on 20 February they took her to the airport to deport her. The migrant woman managed to escape and returned to Nicosia. After she was informed by compatriots of hers, she applied to KISA and we helped her to report, on 7 March, to the Aliens and Immigration Unit of the Police, in order to submit a complaint against her employers.
Instead of receiving the migrant woman's complaint and investigating the serious accusations against her employers, the Aliens and Immigration Unit of the Police proceeded to her arrest and detention in order to deport her because, according to the practice of the Cypriot authorities, "her complaint was submitted one day late"!
KISA considers Santosh's arrest to be totally unacceptable and calls for her immediate release, as well as for the objective investigation of her complaint.
KISA also calls on the Cypriot authorities to develop a policy and action framework for putting an end to discrimination and violence against migrant women, based on equality and respect of their human rights and their dignity.
On the occasion of the International Women's Day, KISA calls on the Cypriot authorities to ratify the Domestic Workers Convention, 2011 (Νο. 189), of the International Labour Organisation, which was adopted at the 100th Session of the ILO, on 16 June 2011, and is due to enter into force on 5 September 2013.