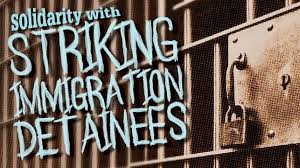 A migrant from Pakistan, who was detained for deportation and was on hunger strike for 40 days to protest against his illegal detention and mistreatment  at the Mennogeia Detention Center, ended up yesterday in the Psychiatric Ward of the Nicosia General Hospital.
The migrant under deportation to Pakistan has been in Cyprus for 5 years and held at Mennogeia for the last 9 months. This person had previously been arrested 3 times and spent more than 3 years in detention for "illegal residence", even if there was no prospect of being deported back to his country. It is worth noting that the European Court of Human Rights (ECHR) has already clarified that staying in a state without a residency status is not a criminal offense punishable with imprisonment. In this context, during the last 40 days, the detainee was on hunger strike to peacefully protest against his illegal detention and inhuman treatment at the Mennogeia Detention Center.
Initially, the police at the Mennogeia Detention Center tried to stop him going on hunger strike, while the guards threatened that they would take him to the mental hospital if he did not start eating.  As he refused to stop his hunger strike, the police took him to the doctor without a translator and he was therefore not able to communicate. Nevertheless, an officer at the Larnaca Psychiatric Services decided that he needed further mental evaluation. But instead of taking the detainee to a psychiatrist to evaluate his mental condition, on Wednesday, 31 July, the police brought him before a judge, once again without any translation, who ordered his transfer to Athalassa Hospital. In effect, the detainee ended up in the Department of Inpatient Care of the Mental Health Services simply to stop his hunger strike and protest against his illegal detention and mistreatment.
Unfortunately, this is not the first time that a human being is facing this cruel reality in Cyprus. Recently, KISA handled the case of an Iranian, who spent the last 7 years of his life in detention, without any court order. He was eventually released because of serious mental disorder, which was in essence caused by his long detention and mistreatment. In another case, a woman from India, who just came to Cyprus to work, but was dismissed by her employer and then exploited by her "agent", was hit by a car and taken to Nicosia General Hospital with serious injuries. While she was hospitalized in serious condition, the Health Services consented to the demand of the Aliens and Immigration Service and tried to deport her. After the intervention of KISA, her deportation was averted and the police began to investigate the circumstances of the accident and the abandonment of the victim.
KISA calls for the immediate termination of both the unlawful detention of the Pakistani detainee on hunger strike and the "use" of the Health Services by the mechanism of unlawful detention and deportation of migrants.