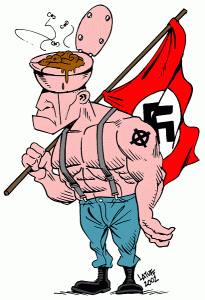 On December 28, ELAM is organising another racist and intimidating march in Larnaca under the pretext of the "threat" from migrants and Turkish Cypriots. This takes place even before the wounds of the Turkish Cypriot musician Sertunc Akdogdu have healed, after he was stabbed in the stomach by «unknown» persons, during a similar march in the same town in early November.
ELAM is not simply a far right, nationalist and racist organisation. Its members are not just people who long for Grivas and EOKA B. It's a NAZI organisation. They use Greek flags in their marches in order to hide the wooden clubs used for support. Their military style marches and the black uniforms, aim to scare and terrorise not only foreigners but society as a whole. It has links with the German neo-Nazi party called NPD as well as other similar European organisations such as 'Chrysi Avgi' (Golden Dawn).  They are Organisations that refer to the most notorious mass murderer in human history, Adolf Hitler, as someone who «history will judge». Will….
In addition to their marches there are the attacks at Phinikoudes Beach in Larnaca and in other towns (recently there was an incident in Nicosia), the assault against the players of the Turkish team Pinar Karasiyaka – on Tuesday evening after a FIBA Eurochallenge basketball game with APOEL – by ELAM's supporters and others from far right organisations who roam the streets in the dark of the night in groups and beat up immigrants or young people that they don't like or approve the way they looked. They cynically exploit the fear, unemployment and hopelessness of ordinary people caused by the economic crisis in order to win acceptance or even recruit people in the ranks of a movement whose ultimate aim is a regime of total oppression for those at the bottom of society.
ELAM is nothing but a neo-Nazi gang like their sister organisation in Greece, 'Chrysi Avgi' whose members edged a swastika on the face of a female student simply because she was antiracist. It's a shame that such gangs are supported either indirectly or worse, directly by some unscrupulous politicians. These politicians use the most absurd lies in order to try and present immigrants and Turkish Cypriots as «privileged» who steal from the public purse at the expense of poor Greek Cypriots. It's a shame that in this dirty game they can rely on the willing support from certain mass media organisations. Some politically irresponsible journalists manipulate the situation created by the spread of poverty and unemployment to cultivate xenophobia. Their aim is to scapegoat immigrants while the economically privileged minority responsible for the crisis make sure those who suffer are the poor.
We call upon the responsible state organs and specifically the Public Prosecutor to assume their responsibilities. To ensure that organisations and public statements that encourage racist and ethnic hatred and violence are dealt with under the law. We call upon everyone, individuals, organisations and political parties, all those who wish to protect democracy and democratic freedoms from aspiring 'Fuehrers' to stand with us and participate in the struggle to stop the neo-Nazis.