The campaign of support and solidarity with KISA by international and European networks and individual NGOs continues. In addition to a statement Police violence must be investigated and blanket ban on protest lifted issued last week, which included KISA's deregistration, Amnesty International issued a new public statement Halt the dissolution of leading anti-racism organisation. In yesterday's statement and social media intervention, Amnesty International calls on the Cypriot authorities "to immediately halt the dissolution proceedings against KISA, restore its registration and allow KISA and other civil society organizations to operate freely and safely."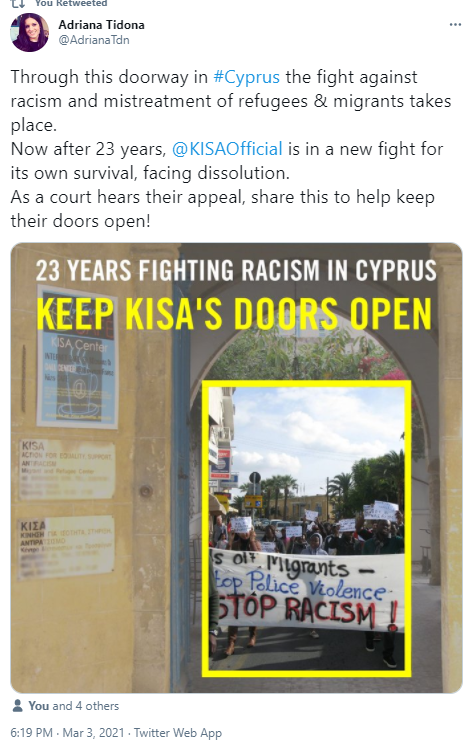 The intervention is added to the ongoing solidarity and support actions, including alerting UN and European human rights bodies and agencies, by several other international and European organisations. Conveying its sincere thanks and appreciation to all its friends and allies, KISA assures them of its resolve to continue the fight against this and any other attempt to silence its voice and put an end to its action.
Yesterday, 4 March 2021, KISA also had the hearing of its recourse against the decision of the Ministry of Interior to deregister it from the Register of Associations before the Administrative Court in Nicosia.
In outlining her written submission to the Court, KISA's lawyer emphasised the main arguments against the decision, pointing out that with its deregistration KISA was in effect deprived of "the very essence of its existence" amounting to its de facto dissolution without a court decision. The organisation's legal representative added that these attacks against human rights NGOs, especially those active in the area of migration and asylum and fighting discrimination and racism such as KISA, which attacks are not unfortunately isolated only in Cyprus, arbitrarily restrict their rights to freedom of assembly and association, as well as their freedom of expression, in blatant violation of the Constitution, the European Convention on Human Rights and other international human rights instruments. KISA's lawyer also elaborated on the unconstitutionality of the legal provision on the basis of which the impugned deregistration was decided as well as the unjustified basis of the decisions themselves. The Court reserved its decision stating it would give every possible priority to the case. Steering Committee