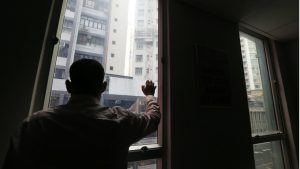 KISA reports that a victim of human trafficking who is also an asylum seeker is being detained with a view to being deported, instead of being offered protection as the law predicts. More specifically, W.A. came to Cyprus during the second semester of 2017 to study at the Department of Civil Engineering of Mesoyios College, having paid an agent about 5000 euro. From this amount, 4000 euro was submitted to the college to cover his tuition fees. When he arrived in Cyprus and went to the college for his matriculation, W.A. was informed by the college that the programme of study for this particular course is not yet available, although it is advertised on their website. The college suggested he change subject, but he did not wish to study something else and asked for the money he'd already paid for, to be returned to him, but the college refused to return it. In December, the police raided W.A.'s house and arrested him. Ever since, W.A. has been detained at the Detention centre in Mennogeia with a view to being deported.
Recently, W.Α. attempted to kill himself because he felt completely desperate, since his dream of studying civil engineering was destroyed and he was left with a very large debt to pay. Based on this data, KISA believes that W.A. is a victim of human trafficking, as he came to Cyprus under false pretenses and paying a huge – for his circumstances – monetary amount, which put him in a dead-end hostage situation.
Furthermore, W.A. has expressed the fear that, in the event of his deportation, there is a serious danger that he will be persecuted anew by Taliban forces and other fundamentalist organisations, due to the fact that in the past he had worked as a nurse administering polio vaccinations and was targeted by the Taliban, who had shot him. The persecution of nurses who administer vaccinations in Pakistan is well-known.
On the 15/1/2018, KISA informed Social Welfare Services, which, according to the Law, are expected to visit potential human trafficking victims and to inform them of their rights. Despite this, SWS have not visited him yet while W.A. continues to be held with a view to deportation, since the Civil Registry and Migration Department (CRMD) hasn't revoked the orders for his detainment and deportation. Also, the Asylum Service hasn't sought to interview him.
KISA calls the competent authorities to assume their responsibilities, as the law predicts, and to:
Release W.A. from detention immediately
Examine the possibility that W.A. is a human trafficking victim.
Examine W.A.'s application for asylum.
Intervene so that Mesoyios College returns W.A.'s money to him.
Finally, taking into account that this is not the first time that a college deceives and takes advantage of a migrant who is a student, KISA urges the competent authorities to investigate the framework that governs the licencing and operation of private institutions of tertiary education in Cyprus.
KISA Steering Committee