Background information of the project
In the northern part of Cyprus, albeit there are some regulations on a policy level, there is no asylum 'legislation' and the requisite institutional arrangements are either not 'enacted' or 'implemented'. There is currently an effort to introduce some amendments to 'CAP 105 Aliens and Immigration Law', but the change this would bring is minimal and cannot replace or fill the gap of a comprehensive legislation on international protection. This is partially due to, as well as result of, the position of the northern part of Cyprus in the international blind spot regarding the monitoring of human rights. Due to this the Turkish Cypriot administration does not feel the adequate international pressure to amend their conduct.
There is a distinct lack of an adequate political will and a limited awareness on the part of civil society in relation to addressing human rights issues in general, those relating to persons in need of international protection, in particular, and associated problems.
There is lack of awareness in the Turkish Cypriot community in general relating to International and European Human Rights standards and the concept of asylum. Specifically, the definition of concepts such as 'international protection' and 'refugee' nor are the activities of RRA and the problems the organisation and the beneficiary population encounter known to the wider society. This results in persons in key decision making and implementing positions, service providers, employers and the public in general having prejudices against the main beneficiary population, coupled with prevailing racism and xenophobia, as well as gender discrimination both in the society and amongst the main beneficiary population thus hindering their ability to realise their human rights. In addition to these problems, RRA has also observed that the main target group has limited awareness of the rights they are entitled to as well as the work conducted by RRA.
With this new project, we aim to raise the issue of non-respect of International and European human rights in the northern part of Cyprus through international NGO networks and increase local as well as international pressure through awareness raising, capacity building and networking in the northern part of Cyprus, across the island as well as regionally and internationally
Project Partners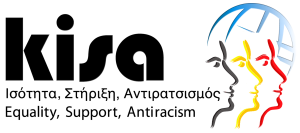 KISA is a NGO, established in 1998, and its vision is the promotion of an all-inclusive, multicultural society, free of racism, xenophobia and discrimination and where, through the interaction and mutual respect of diverse cultures, there will be equality and respect for the rights of all, irrespective of race, nationality or ethnicity, colour, creed or beliefs, gender, sexual preference or orientation, age, inability or any other diversity.
Objectives of the project
The specific project has set the foll wing six main objectives:
Awareness raising and capacity building amongst key civic groups and Turkish Cypriot administration and public in general about refugees and human rights issues.
Building the capacity of RRA in reporting, advocacy and media campaigning, fundraising, networking and governance; diversifying the activities of RRA to include increased advocacy, running awareness raising and media campaign, running capacity building activities for the target group and relevant stakeholders; to tackle the issue of anti-racism, reporting, increasing the sustainability of RRA through effective fundraising;
Promoting active citizenship and culture of voluntarism;
Increasing awareness of refugees of their economic, social and cultural rights and increasing their ability to exercise them and facilitation of integration through empowerment.
Placing safeguards against the violation of rights of refugees through increased sector based networking at regional and European level and through introduction of a draft legal text
Increased dialogue and cooperation on human rights issues will be established between two NGOs across the Green Line and ability for NGOs in both communities to cooperate and address the issue on the same level of knowledge and expertise so as to benefit the rights of the persons in need of international protection but also in view of a possible solution currently in the pipeline to be prepared to address this matter.
Events
RRA and KISA, two civil society organisations across the Green Line, are launching a Project to combat racism and to ensure that human rights of refugees are respected.
Main project activities will include trainings for key civic groups and decision makers on asylum, standards of detention, protection from ill-treatment & torture; production of three reports on human rights of refugees; workshops for refugees on their economic, social and cultural rights; awareness-raising campaigns on the International Day for the Elimination of Racial Discrimination; panel discussion on migration and asylum policy in a unified Cyprus; summer volunteer programs and lobbying for legal change in northern part of Cyprus.
On 21 March 2016, Refugee Rights Association (RRA), KISA – Action for Equality, Support, Anti Racism and the Association for Historical Dialogue and Research (AHDR) held a discussion on "Discussion on Racial Discrimination Today and in a Reunited Cyprus Tomorrow" at Home for Cooperation, on the occasion of International Day for the Elimination of Racial Discrimination. The discussion was held with a view to review the current situation in the two communities regarding discrimination and racism, as well as the relationship between racism and nationalism especially the significance of such problems in the context of a federal and reunited Cyprus.
The discussants were Aristos Tsiartas, the Head of the Anti-Discrimination Body of the Commissioner of Administration and Human Rights of Republic of Cyprus; Mete Hatay, Researcher and Political Analyst at PRIO Cyprus Centre; Nicoletta Charalambidou, legal expert and member of KISA's Steering Committee; and the lawyer Nikolas Kyriakou,. The discussion was moderated by Faika Deniz Pasha from RRA. Read More