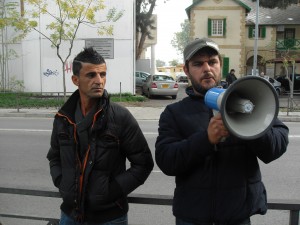 Today 18th of December, the solidarity demonstration that took place with the stateless persons of Kurdish origin from Syria (Ajanib) concluded with success. The stateless Kurds are since almost two months now, living in tents in front of the Ministry of Interior, in protest for the fact that they are in attendance for over 7 years for the examination of their applications seeking international protection.
With their protest up to this day, the stateless Kurds managed to reopen all their previously rejected cases so as to be reexamined immediately. Today's demonstration had the aim to inform all competent parties that the subsidiary protection status, with which the competent authorities are trying to provide them with, works as no solution for this precise group since:
It does not ensure the rights deriving from the UN Convention on stateless persons
Clashes with the recommendation of the UN High Commissioner for refugees (UNHCR).
They are not granted reunification with their families and not even the possibility to travel, since it does not provide them with valid travel documents, either for family or professional/work purposes.
It is contrary to the policy which the rest of the EU member states follow, where they provide to all stateless persons of Kurdish origin from Syria "recognized refugee status".
The subsidiary protection status, in essence forces them to abandon Cyprus illegally in order to reach another EU country where they can seek protection.
It is contrary to the commitments promised by the Minister of Interior before the Parliament on the 20th of October 2014.
The protesters handed a resolution to Mr. Constantinos Nikolaides, Director General of the Ministry of Interior, to a representative of Mr. Makropouliotis, Head of the Representation of the European Commission in Cyprus, to a representative of Mrs. Alexandra Attalidou, Head of the Representation of the European Parliament in Cyprus, to Mr. Giorgos Loukaides on behalf of the President of the Parliament's Interior Committee. Furthermore, the resolution is expected to be delivered tomorrow to the President of the Refugee Review Authority.
The Director General suggested the convene of a new meeting in the following week to discuss the subject with the competent authorities in an attempt to find a satisfactory solution while all the rest stated their understanding for the just demands of the stateless Kurds and expressed their readiness and desire to mediate towards the competent Ministry for its positive response on the subject.
KISA Steering Committee