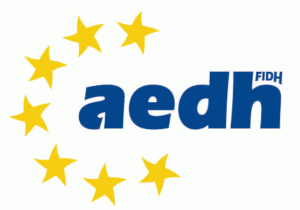 "For a Europe of Human Rights: Here, Now and for All!" : Joint campaign of the AEDH and its members – 4th March 2014
The campaign "Europe of human rights: here, now, for all !" is conducted by the European Association for the Defence of Human Rights and its 31 member associations, which promote human rights, democracy and citizenship across 22 member states of the European Union.
Between the 22nd and 25th of May 2014, nearly 390 million Europeans are called to vote. This is an important element for every European citizen. The European Parliament is the only European institution directly elected by EU citizens: it prepares and votes laws that affect significantly the daily lives of citizens, especially in terms of fundamental rights.
This election occurs in a difficult period for most of the Member States: economic crisis, rise of populism and extreme right, added to an atmosphere of distrust towards democratic bodies and a sense of economic and social injustice.
In this context, the campaign of the AEDH and its members aims to put the Human Rights at the center of debates and political programs, to explain the European election's issues and to encourage the citizens to vote and to submit to the candidates our main claims and to make their reactions available to all the citizens.
Our statements are:
Read our manifesto in english, french and greek.
Read our Open letter for the launch of the campaign in English , in French and in Spanish.
Our campaign will mobilize citizens and candidates by :
– Submission of the manifesto to the candidates
– A dedicated website and social networks (available soon)
– Organized actions by AEDH's member at a local level :
o Latvian Human Rights Committee, press conference on the 4th of March
o European Association for the Defence of Human Rights – Bulgaria (EADHR – Bulgaria), seminar on the 5th of March, 1) The EP – how it operates and how citizens participate in its work 2) How Bulgaria elect its representatives and what visions, inspirations and frustrations they send to EP
o (List of the events organized at the member's level regularly updated on our website)
See also: Presentation of our manifesto to MEPs on November 2013