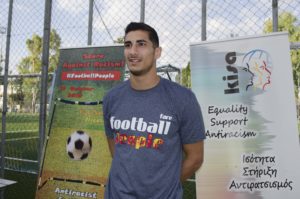 ΓΙΑ ΕΛΛΗΝΙΚΑ ΠΑΤΗΣΤΕ ΕΔΩ
On Wednesday (19/10/2016), KISA in cooperation with The G C School of Careers, in the framework of FARE Network campaign organized successfully the 'Score Against Racism' football tournament at G C School, Nicosia. More than 150 children participated in the tournament, including children of refugees and migrants as well as teenagers and adult refugees/migrants. The whole event took place in the framework of the "football People action weeks'', 6 – 20 October at the same time as other activities against racism were taking place around Europe.
KISA, considers this event as the beginning of a more active involvement of the organization in the effort of combating racism in sport, and particularly in football. Racism, intolerance and other similar mind-sets have no place in sports. Therefore, in cooperation with Fare Network and other organizations that share with us these anti-racist ideals, we are committed to continuing the effort for creating those conditions which will completely transform sports into a means for promoting the respect of Cultural diversity and of an open intercultural society.
Furthermore, due to the significant problems we face in Cyprus with racism entrenched in football, we consider that all football clubs should demonstrate a spirit of cooperation in an effort to effectively tackle the phenomenon of racism both within and out of the football stadiums.
As far as KISA's tournament is concerned, this was divided into two parts. Initially, from 15:30 until 18:30, children between 6 and 12 years old who train in football academies participated in their own football tournament. At the end of the tournament all the children were awarded medals from the organizers. In the second part of the event, which started at 18:30, more than 50 teenagers and adult refugees and migrants, not only had the opportunity to play and enjoy football but also agreed to participate in an effort for setting up an amateur football team which will be loyal to the idea of equality of all human beings and against any form of racism and discrimination.
Finally, KISA, would like to thank all the people for joining and enjoying the tournament. We would also like to extend special thanks to GC School of Careers and Fare Network for all the support and the professional football players of Omonoia Nicosia who attended the tournament.  Furthermore, we thank the football academies of APOEL, Omonoia Nicosia, G C School, Thoi Lakatamias, and Galaxy fc for their active participation.